POLYSPRAY / PORTASPRAY - Gelcoater


SPECIALLY DEVELOPED AND DESIGNED FOR SPRAYING OF GEL COATS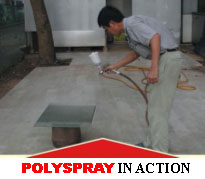 Application instructions:
Fill container with required amount of catalysed gel coat


Pull the trigger and spray the gel coat in smooth right/left and left/ right motions. Overlapping can be from 30~50%. This is followed by spraying at 90º angle against the previous left/right passes, until the whole surface has been covered or gel coat used up. Refill container if necessary


When all is done, discharge remaining gel coat and pour in a small amount of acetone to clean the container and spray out. Add more acetone and discharge by pulling the trigger.
Advantages:

- User friendly
- Little or no waste
- Superb spray quality
- Easy clean up, no mess
- Lightweight
- Extremely versatile and mobile
- Unlikely to have a need for replacement parts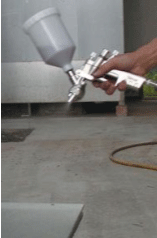 High grade surface coverage , fine atomization and non-polluting
Fan shaped pattern
capacity of container of: 600 ml or 1000ml
Type of feed: Gravity
Modified nozzle


Performance Parameter
Consumption CFM :
Feed Type :
Pattern width :
Air pressure :
Rated pressure :
Output :
7-12
Gravity
180mm
50-80psi
70psi
300gm/min
For more information, please contact us @ enquiry@polymertec.com