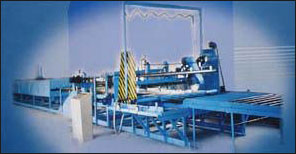 TECHNICAL DATA
Dimension: 36-58m x 4 m x 3.2m
Capacity: 400,000 m2/year
Speed: 3-4m/min for clear 5~6m/min for opaque
Total power:15-78W
Power: 0.36KW. H/sqm
Water: 0.01CBM/Sqm
Product size:
a) thickness: 0.3-3.0mm,
b) width: 1600mm for plate,
wave height: 130mm,
length: unlimited.
Off Grade product: max 5%
Nno. of operator: 5-7
Processing station: feed, load, impregnating, inspection, forming, curing and drawing, cutting and test.
Composition of production line: storage system, feeding system, impregnating system, thickness control system, defect to detecting and choice system, Forming system (including one set of mould), heating circulating system, drain off waste gas, pulling system, taking film system, cutting system for side, plate drawing of system, cross cutting system,, operating system, tracking system
Installation principle & production
Automatic loading and resin impregnation Resin, accelerator and catalyst enter into the mixer in designated proportion by pumps. The mixed resin is then allow to fall the under tighten film. They form resin layer through a special device. The quantity of resin is regulated by adjustable scraper. At the same time, CSM is laid on the resin layer to be impregnated. The accelerated resin then impregnated the CSM through one heating area. An anti-aging film is lower to cover the top laminate. Now the resin layer and fiberglass is sandwich between the upper and lower film forming an impregnated laminate. A special device drains the bubbles and control thickness of product. The thickness could be adjusted accordingly. The adjusting process is shown on the instrument.


Defect checking and elimination Defects can be checked up and eliminated in this part when impregnated laminate go through.


Gelling, Shaping & Curing The formation of corrugated sheet is by passing the impregnated laminates through a wave patterned mould. It then entered into an oven for curing. Hot air from heat exchanger and heat created from impregnated laminate will cure and solidify the resin, forming a stiff corrugated or plain sheet.


Film & Rewinding Cured corrugated or plain FRP sheet leaving the heating furnace will be cooled in the air. The film above and below FRP sheet removed and rewind at a counter for further treatment


To cut FRP Sheet Cured sheet is drawn into cutting system with drawing machine. At first it is cut to designated width by saw in which direction could be changed in any angle. In this process saw is cooled by water, the water—also removed the dust. Aqueous solution including dust is drained after depositing in the deepwater of a precipitate tank.


Instruction to take note



Adjust proportion pump according to production demand and to prepare all raw materials ready mixed in designated proportion automatically or upon requirement.


The temperature of impregnating bath is regulated automatically to ensure that fiberglass could be impregnated and the bubbles be discharged sufficiently.

The furnace temperature is separated into three areas. The temperature of each could be controlled automatically through adjusting electric heating element, blower, and exhaust fan, to each area, till a temperature suitable for maximum production is achieved

The drawing velocity could be adjusted according the production demands.


To adjust the velocity of saw; make it match with the product major drawing velocity.


The length can be cut according the production demands.


Environment & safety measures This production line could result in a few of waste residue and noise, therefore every installation have an exhaust device. The dust is absorbed by water and then deposit. Liquid waste can be drained in the end. Most of the raw materials are combustible, so the naked fire is forbidden. Because peroxide is and can be very unstable under the sunlight, it must be stored in dry, well ventilated place. Accelerator should not mixed with catalyst in any case as it will cause explosion.